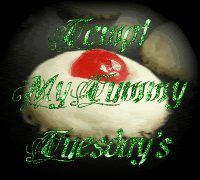 Welcome to Tempt My Tummy Tuesday's. This week I've to make something that is NOT edible. Since I'm on a diet and all. I don't need to be tempting my tummy. And if I make something I'll eat it! So this week I'm made play dough!
This is what you need
1/2 cup of flour
1/2 cup of water
1 tsp creme of tartar
1/4 cup of salt
1 tbsp cooking oil
food coloring
1. In a small pot combine all ingredients
2. mix the food coloring with the oil and water before mixing with the rest. Color mixes better.
3. Mix thoroughly. It will be gummy and like a thick paste
4. Turn heat on low and stir continuously
5. Mixture will start to form a ball. Once all play dough has formed a ball place on counter and kneed until smooth. Roll in a ball and let cool. Store in an airtight container in the fridge!
Make all types of colors!